Networks of Roman Eleusis v1.0 Released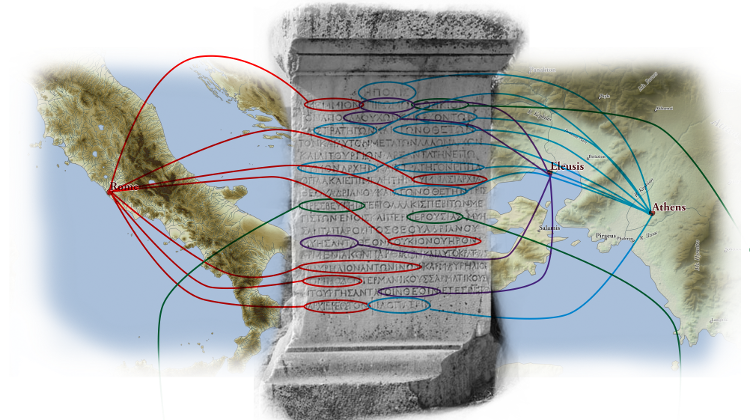 I am very excited to announce the initial release of the complete code rebase of my graduate research project, The Networks of Roman Eleusis!
To explore the data and visuals, check out the live site here.
To install on your own server and use for your own epigraphic research, check out the GitHub repo here.
Unlike before, this is no longer a project strictly useful to Eleusinian scholars… it can be redeployed for other projects on ancient epigraphy quickly and easily. Have an epigraphic research project? Install this program on a server and in minutes you can have a team of approved graduate students or helpers entering your data all through its handy web interface.
The Networks of Roman Eleusis was originally conceived of as a way to help scholars keep track of not only the hundreds of inscriptions, but also the manifold connections between the numerous people, institutions, and honors appearing on them. Navigating all of the source material is not merely time consuming, it prevents scholars from seeing larger patterns. The Networks of Roman Eleusis sought to make tracing those patterns quick, easy, and visual. Now, the project is expanding to allow others to use the program beyond the scope of Eleusis. Future versions will improve universality.
Note: it's a very early initial release, so it currently is not-mobile friendly. This, many more improvements, security features, and tons more visualizations are going to be added soon.
Features:
Backend:NodeJS 18.x
Database:MySQL 8.x
Backend Framework:ExpressJS 4.x
Frontend Framework:Angular 13